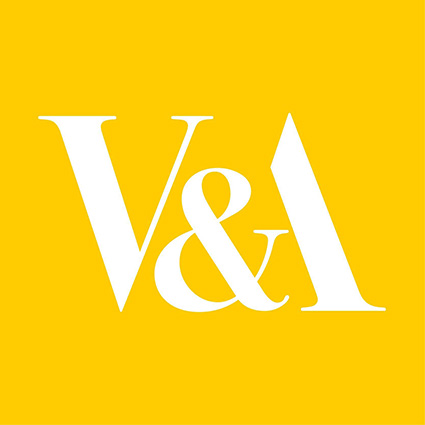 Miles Aldridge in conversation
8 June 2023
Miles Aldridge is a British photographer who lives and works in London. The V&A was pleased to acquire two of his photographs last year for the permanent collection. Here we talk about icons, innovations and inspirations.
We're delighted to have your work come into our collection and join the two photographs we already hold. Your pictures create alluring and surreal atmospheres, always in strange worlds and with bright colours. Where did this aesthetic come from?
My father, Alan Aldridge was a famous art director, who worked with The Beatles, The Rolling Stones, Sir Elton John and Andy Warhol. He was a pretty fabulous psychedelic whiz-kid, part of the zeitgeist of the groovy 1960s into the hippie 1970s. His images were very much part of my childhood, and I grew up in a house that reflected this incredibly creative time; our living room was painted tangerine orange and my father's studio was painted like a Union Jack. There was Pop Art everywhere, giant cut-outs of comic book characters, pinball machines, a wall collaged in images torn from The Sunday Times supplements and pop music playing on the stereo. There was this incredible mix of sound and image flowing through my childhood.
Then all of that excitement came to an abrupt end when my parents divorced when I was about 10. It really felt like the family home just fell apart; the psychedelic posters and paint were falling off the walls, the paisley Liberty print sofa was ripped and shredded. But when my father moved out, he left his library of incredible art books and in my early teens I would thumb through his books on Hieronymus Bosch, Egon Schiele, Walt Disney … Also as a teenager, I started my own Garage punk band called The X-Men. We were signed to Creation Records by Alan McGee who later went on to sign Oasis and Primal Scream. However, I quickly realised that I had zero talent for music, so I left the band for art school. At Central St Martins School of Art I was blown away by the work of the other students and the extensive library of art books. What was important to me then, as an illustrator, and still important to me as an artist today, is that your work is visible from 50 yards away and that people know it's yours. When I was illustrating album covers or book covers, I wanted it to really look like my work and not like anyone else's. I think all of this played a huge part in developing my aesthetic over time.
Before photography, you worked as a pop music video director. How did you come to work in moving image?
In my early twenties I decided that I either wanted to be a photographer or a film director. I think when you are young you can have these wonderfully naïve conversations with yourself about what you want to do. I picked up my father's Nikon F 35 mm camera and his Canon Super 8 movie camera and I started to experiment. This was in the mid 1980s, the period of Derek Jarman whose Super 8 films were so inspiring. I would see Derek frequently in the cafes and bars around Soho and I once plucked up the courage to introduce myself to him and told him how much I loved his films. He advised me on the Super 8 camera that I should use (a Braun Nizo) and I started taking filmmaking more seriously. After my initial experiments with Super 8, inspired by the poems of Federico García Lorca I set out to film a cinematic homage to him. I travelled from Barcelona to Seville (Sevilla) by train, armed with my Super 8 camera and 20 rolls of film. I filmed fountains, religious parades, the sun, stray dogs, rotting sardines, the palm trees, a gigantic effigy of the Virgin Mary; anything that crossed my path.
When I came back, a friend of a friend, who was a pop video director, taught me how to edit my footage using the editing suite at her production company's office. One evening, when I was editing alone, the owner of the production company, came in unexpectedly and asked who I was and what was I doing there. I showed him my Spanish footage, and he asked me 'How would you like to direct a pop video?'
I directed a handful, but the only one that still stands out for me was The Charlatans song 'Weirdo'. I hadn't been to film school, and I knew nothing about lenses or lighting, but I always had this drive to educate myself and learn about cinema. I spent a huge amount of my time at repertory cinemas, The Everyman Cinema in Hampstead, the Scala Cinema in King's Cross and the National Film Theatre. Each ran different programmes every day, so I would go and watch the double bills of Godard, Truffaut and Fellini taking inspiration for my own videos. The pop videos I directed didn't have much focus on the band, but instead would show a story told in images. I hated filming the band, it felt so strange to watch them mime, consequently my days as a pop video director were numbered. I just couldn't hack it.
How did you transition from directing pop videos to fashion photography?
My sister, Saffron, had started modelling around the age of 14, and by 16 she had contracts with Ralph Lauren and other fashion brands, and she was my go to subject to experiment with lighting and practice photography at home. I signed myself up to a photography evening class after school in Camden and learnt about lenses, depth of field, shutter speed and how to develop negatives. Later in the mid 1990s my girlfriend at the time was interested in modelling too, and my sister told me to take her picture. So, I took this very simple picture of her in the park using my father's Nikon F, had it processed at Boots, and on the strength of this she joined my sister's model agency. A couple of months later she had a meeting at Vogue. I met her at a pub afterwards and she said 'Vogue want to meet you, they love your photo'. The next day I phoned the photo editor, who asked me to come by the office with my portfolio. I didn't have a portfolio then, just a shoebox of pictures. The next thing I knew I had an agent and was suddenly shooting editorials and campaigns almost every day. It happened so fast.
The first editorial shoot I did was for The Guardian. I then did a shoot for Elle magazine and later had a call from a guy in New York who was the head of W inviting me to shoot for his magazine. I remember that I didn't want to be jetlagged as I'd never travelled anywhere that far from London before, so I went to New York two weeks early to prepare for the shoot. That year I did about 10 out of 12 covers for W. I ended up being in New York a lot, and had covers on several magazines each month whether it was British Vogue, Allure, W or Vibe. My shoots were always against a white background in the spirit of Richard Avedon. Avedon came to my studio one day because I was working with Polly Allen Mellen, the famous editor, and she said 'Miles I'd like you to meet Dick'. I was a huge fan and he said something that really stuck with me. Polly said 'This is Miles Aldridge', and he went 'Oh, you're Miles Aldridge!' and I just thought 'What a classy guy'. He didn't know who I was, of course. He was so charming, and it was such a wonderfully charming thing to say.
This was in the mid-1990s, a transitional time in the fashion world. What was it like as an emerging photographer then?
It was a very exciting time. Grunge changed the face of fashion, with extraordinarily raw images. It was revolutionary, rebellious, cool and desirable. It was an incredible shock to the culture and it seemed to arrive from nowhere. When I first got into photography, Grunge was just exploding. The models were different. Their faces, unconventionally beautiful, told new stories. Grunge was a rebellion against of all the insane glamour that came before; the world my sister had represented as a model, this kind of rarefied aristocratic beauty.
Your photographs have a cinematic quality to them. Almost as if they are film stills and we only get a brief glimpse into the narrative. How do you begin to create these scenes?
I went to art school to study graphic design with a focus on Illustration. When I left at age 22, I worked as an illustrator on book covers, record covers and magazine articles for Vogue. The illustrations were graphic and colourful and looking back were obviously precursors to what I would later do in photography. From then on, I would always sketch the ideas for my photographs, colour them in and see them like a storyboard for a film, but – unlike a film – the photographs didn't all have to make narrative sense together. It was a bit more like the trailer; you're not seeing the whole film, you're seeing snippets of the story. It doesn't make linear sense, but it makes cinematic sense.
One of the first times that I used a drawing to direct a photoshoot was this idea I had of an abandoned car with a couple making out in it while the car was invaded by plants that were growing through the smashed windows. I noticed that having the drawing gave the whole team a purpose, and instead of producing another generic studio fashion photograph we brought my drawing to life to create something really original. It was so rewarding to see that a drawing of people in a car, or lighting a cigarette on a hob, or a woman at the cinema, could become a the seed of a photograph. This way of working allowed me to create scenes akin to the films I loved, producing richer, darker and stranger images.
You've worked across an array of fashion magazines, but Vogue Italia seems to be the one with which you've had the longest-standing relationship, and where some of your most extraordinary pictures were shown for the first time. How did you come to work with them?
After working in New York and doing a lot of advertising photography, I was ready for something else, something more creative. When I was first introduced to Franca Sozzani, then the editor-in-chief of Vogue Italia, I was photographing mostly against a white background. I became bored with that approach and Franca allowed me to test other things. Eventually, the backgrounds became darker and shadows entered the pictures: I started to tell stories with my images.
Franca was so perceptive and came with a huge amount of authority and references too, not only great photography but also cinema and art. From the moment I started working with her, I delved into my mental cinematic library from being a pop video director, reinventing Alfred Hitchcock scenes to shoot shoes or a handbag. It was never really about the accessories you were photographing, but it was the narratives I made around them. One of my early shoots for Vogue Italia was about lipstick and – instead of it being on a model – it was on things she might have left behind. And I thought 'even better, it can be lipstick on a cigarette stubbed out into a fried egg'. That idea came from a scene in Hitchcock's Rebecca (1940) when a rich woman stubs her cigarette out in a jar of face cream. These photographs were in the language of the posters that would've been in my childhood home; pop art illustrations of crushed coke cans and spilled drinks.
There was a mutual understanding between Franca and myself that you could push the conventions of fashion photography, but if she didn't like it, she would kill the picture. I always wanted to show something that was challenging enough to get the reader to stop flicking the pages, and Franca gave me carte blanche to explore new images. Vogue Italia became my longest partner, working with a single editor-in-chief.
Your back catalogue of references is varied, from Hieronymus Bosch to punk music. Childhood memories also seem to be a recurring theme in your work. Can you tell me about the characters who inhabit your photographs?
Franca gave me the freedom to express myself through my work and over time I started to return to images of my childhood. I would revisit memories of my mother as a trapped housewife from a broken marriage. She wore this inscrutable face that you couldn't read.
If you overheard her phone calls or read her letters, you knew she was falling apart inside, but on the surface she didn't show any of that. She was living in the ruins of this psychedelic palace where my sister and I grew up. The homes depicted in my pictures rarely have windows. They're like chromatic prisons with no views of the outside world. They're a psychedelic prison in lurid colours. It was only later in my life, when I was asked in an interview about the influence of my father and mother on my work, that I realised that my mother, this close-lipped woman, cleaning and cooking all the time, was the woman in my photographs.
In a way some of the dramas and some of the violence I saw at home at a young age, all the screaming and shouting, I revisited with fictional characters. Sometimes truth is stranger than fiction, and some of the stuff from my childhood you wouldn't believe. What made me then want to tell these stories and make these pictures was that my mother, very sadly, died of cancer just as I was beginning my career in photography. I didn't know it would have such an impact on me, but the 'unfinishedness' of her life and seeing that domestic misery – and being let down by the promise of marriage – struck me. Her downfall was hideous and fast; suddenly she was gone. The demise of my mother from happily married, to this sudden shock of her death left a gigantic question mark for me; 'Who was this woman?'
So, when Franca gave me that freedom to express myself through my work, I started to mine this world of my childhood. There was never a specific incident like the one depicted in I Only Want You To Love Me #1 (2011), with all of the food thrown across the floor, but I can certainly remember dinners being thrown across the wall. To add another layer to that shot, the model is my half-sister, Ruby. She is the youngest of all eight of us and she had just started modelling then. My half-sister acting as my mother is like something from a Greek tragedy.
It's your personal memories taken to an extreme in often highly glamorous and saturated settings. The facial expressions of the models are intriguing too. Can you tell me about how you direct your subjects?
Facial expressions are something I really think about when I'm making the pictures. You want the viewer to be drawn into the image so that they will ask questions. The majority of the people who collect my work are women and they often say 'I love your picture, I look at it everyday and see myself. That's me!'
The fictional characters I create are always in this moment of questioning themselves. The characters are searching for something, but their means to find it are very strange, like adorning themselves with expensive clothes. Some people wrongly assume that the blankness in the models' expressions represent them as robots or 'Stepford Wives', but I don't see it that way at all. Rather, I want it to feel like the subject is thinking deeply because their life is so confusing. Again, it's this aspect of my mother; of a woman that doesn't talk a great deal, but does think deeply about her life.
I see photographs more like paintings. When you see figures in a painting, you don't
think of that instance as being replaced by another moment shortly afterwards as you do with photographs. You think that they're permanently there. A figure in a Caravaggio or a Piero della Francesca is endlessly there, we don't imagine them going on to do other things later. They are eternally there. A lot of that comes from the face and the way they present themselves. In this way they become icons.
Cinema is also a key influence for you and your photograph 3-D is a brilliant homage to this. What's the story behind this picture?
This was originally a commission for The New Yorker magazine. They sent me an article on the rise of 3-D cinema, and I started to play with the idea that if the experience in the film is three-dimensional, because it's so real, then maybe her experience in the cinema and everything within it, becomes flat and two-dimensional. I set up the scenario in a studio with the model and her two-dimensional Coca-Cola and her two-dimensional popcorn watching a fake screen. The picture is all about the constructed part of all the great films I love. For example, Federico Fellini's La Dolce Vita (1960) is all about the energy and the atmosphere on one of the main streets in Rome called the Via Veneto. Instead of shooting on the actual street, Fellini constructed the street in a film studio and invented everything.
Seeing that visual invention in cinema always encouraged me to invent things in my photographs. Everything in this picture is invented, but the model in the middle of all of this invention brings the truth to it. You believe the whole thing as you're drawn in by her gaze back out to us.
You are one of the few photographers who still shoots predominantly on film. It gives your work a highly glossy and polished result. Why is it that you still choose film over digital?
Everything I shoot is shot on colour negative. For me, the goal is always to have the vivid colours and creamy skin tones of the original Kodachrome film from the 1930s. This was a legendary film that used 13 different chemical baths to produce its colours. It was discontinued in the 1990s. I work with a modern Kodak film that is very fine-grained, and I can process it quite aggressively to bring up the colours and it still holds the image perfectly. With film you get this beautiful kind of lustre that feels more like a painting.
And you shoot on Polaroid before using colour negative. Can you tell me about this process?
 As I shoot on film, Polaroids are integral to my process. They are the only way of testing an image to see what it will look like. They're a working document, a form of note taking, so they weren't always valued in photography. I personally own a pair of Helmut Newton's Polaroids from the 1980s. It's magical to think of this great fashion photographer, holding these Polaroids in his hands and writing notes on them. Each Polaroid takes two minutes to process, a time period in which you are waiting for the answer of whether the picture will be any good. It's a wonderful anticipation while the chemistry does its thing – and then comes the moment of reveal. You, the photographer, the creator of the work, are the first person to see it appear. After checking the Polaroids I would then typically make some adjustments to lighting or composition before shooting on colour negative to make the final image. The Polaroid gives you the confidence to get the final image; it is essentially the photographer's sketch.
Polaroids then became their own separate project for you.
At the end of a shoot, Polaroids were typically swept into the studio rubbish bins, but I always kept mine and now have this wonderful archive of them. I've published two photobooks on my Polaroids, Please Return Polaroid (2016) and Please Please return Polaroid (2023), published this year by Steidl. The title refers to what I would write on the back of the Polaroid when they were sent to my lab, as colour references for the contact sheets, so that they wouldn't throw them away. In the books, I included Polaroids that are mementos of portrait sittings. I photographed David Lynch and he's always been a huge influence on my work. I love the strange, dreamlike, surrealist aspect of his films. The Polaroid of Lynch is particularly special for me as I asked him to sign it. I also gave him one that I signed. It's like an exchange to remember that moment. When I did my first book, he wrote a short statement about my work: 'Miles sees a colour coordinated, graphically pure, hard-edged reality.'
Colour is clearly important to you. The vibrant and bold tones are reminiscent of photographers like Madame Yevonde and Walter Bird, whose work we hold in the V&A's Photography Collection. As well as cinema, do you ever look back at the canon of photography for inspiration?
The colourists, like Madame Yevonde and Paul Outerbridge, were real pioneers. In the 1930s and 1940s, great steps were made in the technical process of colour photography and it was being applied to new images by these pioneers. What is beautiful with a Yevonde or an Outerbridge print is that the colour has such presence. In my work I'm trying to pay homage to these photographic heroes. When you see an early colour print in the flesh, it really speaks to you. Colour photography is in my opinion the great art form of the 20th century.
The V&A in South Kensington as a museum is hugely important to me too. I've been going there since I was a teenage art student. It's the combination of the permanent collection and the incredible shows I've seen. I remember seeing the David Bowie Is exhibition and it was such an eye opener.
I've also had some wonderful quiet strolls through some of the galleries; enjoying Constable's sketches of clouds and the Panorama of Rome by Lodovico Caracciolo (1824). It's a striking moment when you first discover the Panorama of Rome as a student. I took my dad to the V&A for the You Say You Want a Revolution? Records and Rebels 1966 – 1970 exhibition in 2016, where several of his artworks were included. It was a big show for him, and I have nice memories of taking him around in his wheelchair and reminiscing. It's such an important institution and I'm thrilled to be a part of it.