Interview
Miles Aldridge: in conversation with Lydia Caston
V&A Museum Blogpost
The V&A recently acquired two Chromogenic prints by Miles Aldridge for their permanent collection; I Only Want You To Love Me #1 and 3-D. To commemorate this Miles was interviewed by Lydia Caston, Exhibition Project Curator at the V&A Museum, for their Blogpost. They discussed his work, process and inspirations and below you can read an extract from the interview.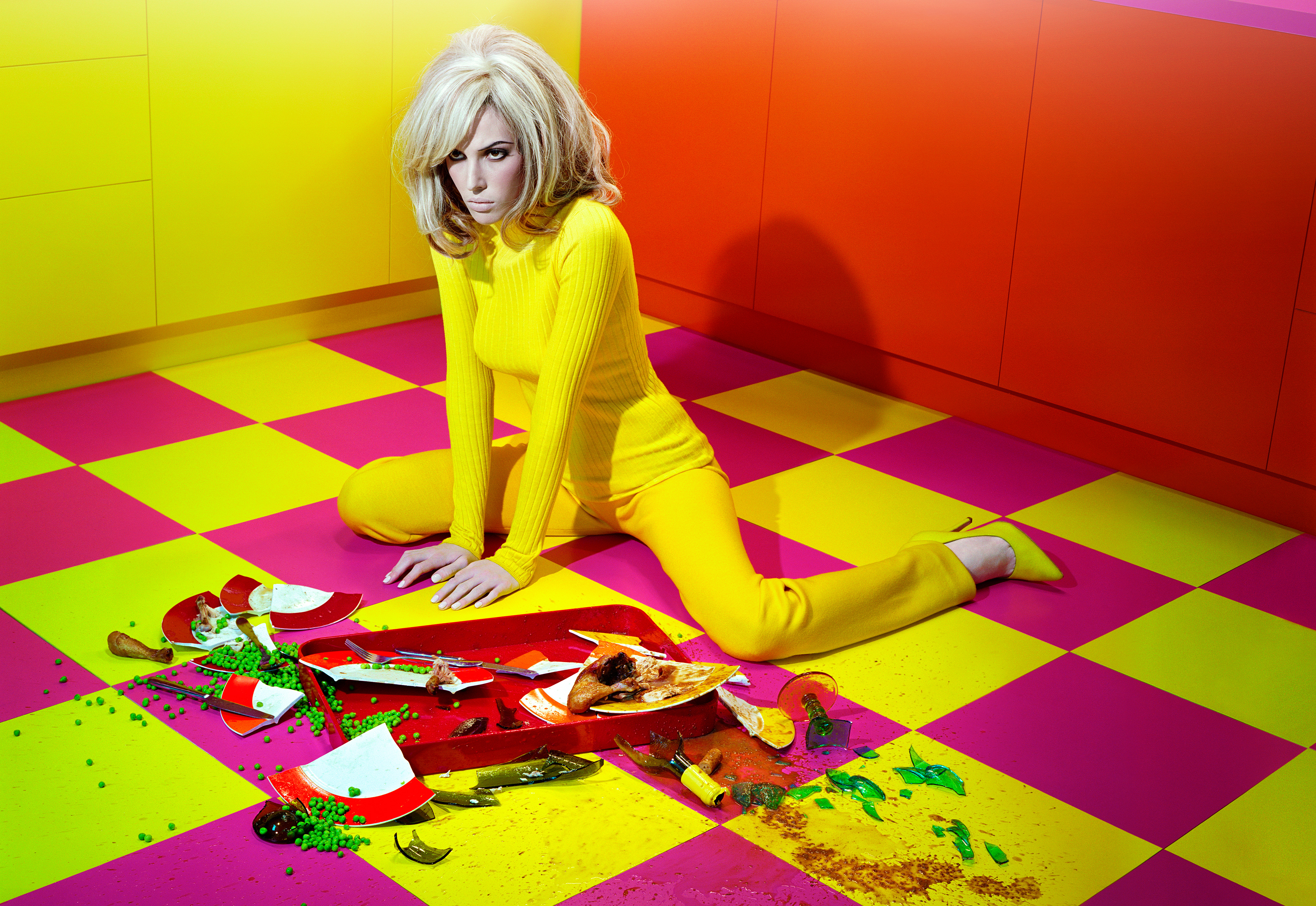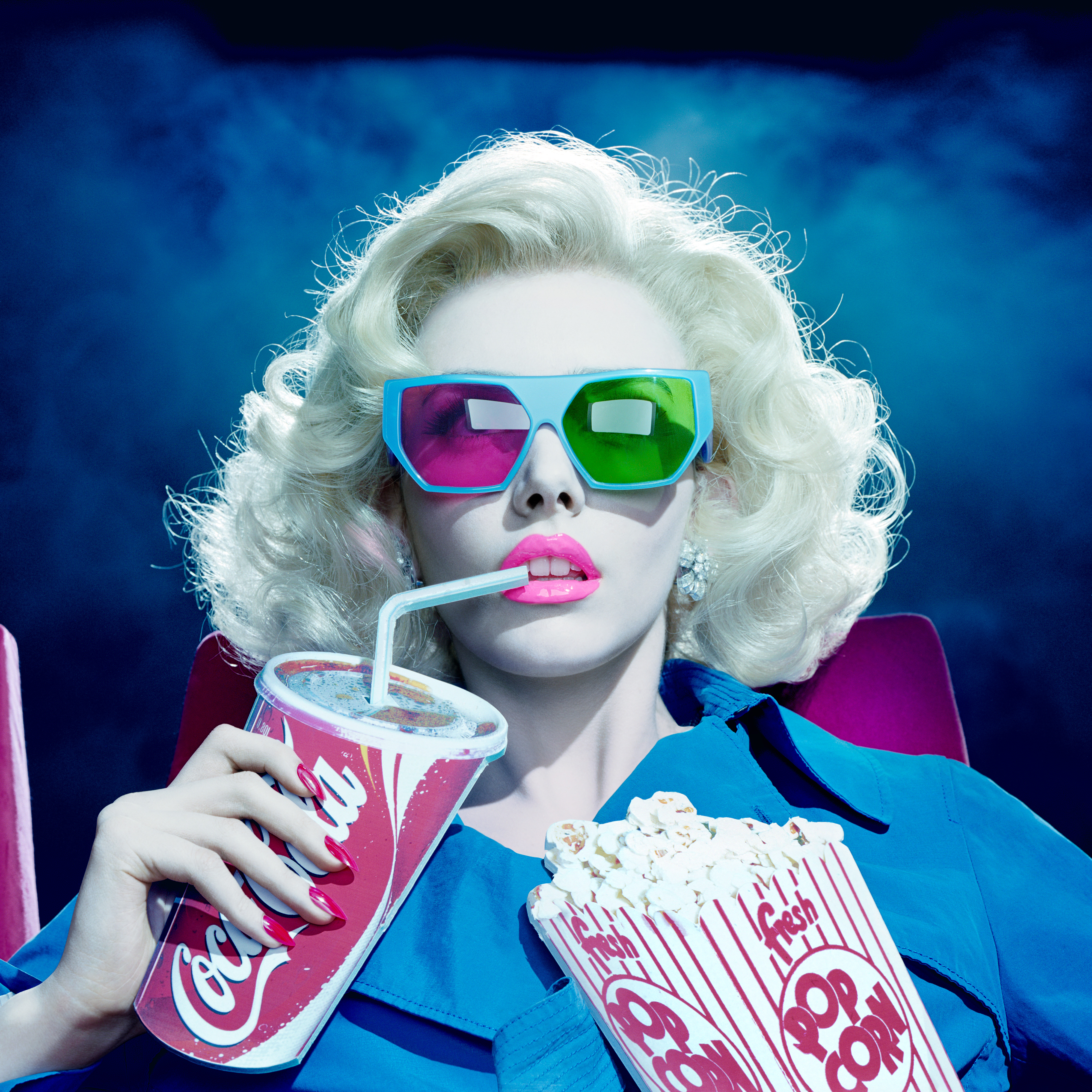 We're delighted to have your work come into our collection and join the two photographs we already hold. Your pictures create alluring and surreal atmospheres, always in strange worlds and with bright colours. Where did this aesthetic come from?
My father, Alan Aldridge was a famous art director, who worked with The Beatles, The Rolling Stones, Sir Elton John and Andy Warhol. He was a pretty fabulous psychedelic whiz-kid, part of the zeitgeist of the groovy 1960s into the hippie 1970s. His images were very much part of my childhood, and I grew up in a house that reflected this incredibly creative time; our living room was painted tangerine orange and my father's studio was painted like a Union Jack. There was Pop Art everywhere, giant cut-outs of comic book characters, pinball machines, a wall collaged in images torn from The Sunday Times supplements and pop music playing on the stereo. There was this incredible mix of sound and image flowing through my childhood.
Then all of that excitement came to an abrupt end when my parents divorced when I was about 10. It really felt like the family home just fell apart; the psychedelic posters and paint were falling off the walls, the paisley Liberty print sofa was ripped and shredded. But when my father moved out, he left his library of incredible art books and in my early teens I would thumb through his books on Hieronymus Bosch, Egon Schiele, Walt Disney … Also as a teenager, I started my own Garage punk band called The X-Men. We were signed to Creation Records by Alan McGee who later went on to sign Oasis and Primal Scream. However, I quickly realised that I had zero talent for music, so I left the band for art school. At Central St Martins School of Art I was blown away by the work of the other students and the extensive library of art books. What was important to me then, as an illustrator, and still important to me as an artist today, is that your work is visible from 50 yards away and that people know it's yours. When I was illustrating album covers or book covers, I wanted it to really look like my work and not like anyone else's. I think all of this played a huge part in developing my aesthetic over time.
Before photography, you worked as a pop music video director. How did you come to work in moving image?
In my early twenties I decided that I either wanted to be a photographer or a film director. I think when you are young you can have these wonderfully naïve conversations with yourself about what you want to do. I picked up my father's Nikon F 35 mm camera and his Canon Super 8 movie camera and I started to experiment. This was in the mid 1980s, the period of Derek Jarman whose Super 8 films were so inspiring. I would see Derek frequently in the cafes and bars around Soho and I once plucked up the courage to introduce myself to him and told him how much I loved his films. He advised me on the Super 8 camera that I should use (a Braun Nizo) and I started taking filmmaking more seriously. After my initial experiments with Super 8, inspired by the poems of Federico García Lorca I set out to film a cinematic homage to him. I travelled from Barcelona to Seville (Sevilla) by train, armed with my Super 8 camera and 20 rolls of film. I filmed fountains, religious parades, the sun, stray dogs, rotting sardines, the palm trees, a gigantic effigy of the Virgin Mary; anything that crossed my path.
When I came back, a friend of a friend, who was a pop video director, taught me how to edit my footage using the editing suite at her production company's office. One evening, when I was editing alone, the owner of the production company, came in unexpectedly and asked who I was and what was I doing there. I showed him my Spanish footage, and he asked me 'How would you like to direct a pop video?'
Artist Talk
Sarabande Inspired: Miles Aldridge in conversation with Lyndsey Ingram
Sarabande Foundation
22 Hertford Road
London N15SH
10 May 2023
19:00 – 21:00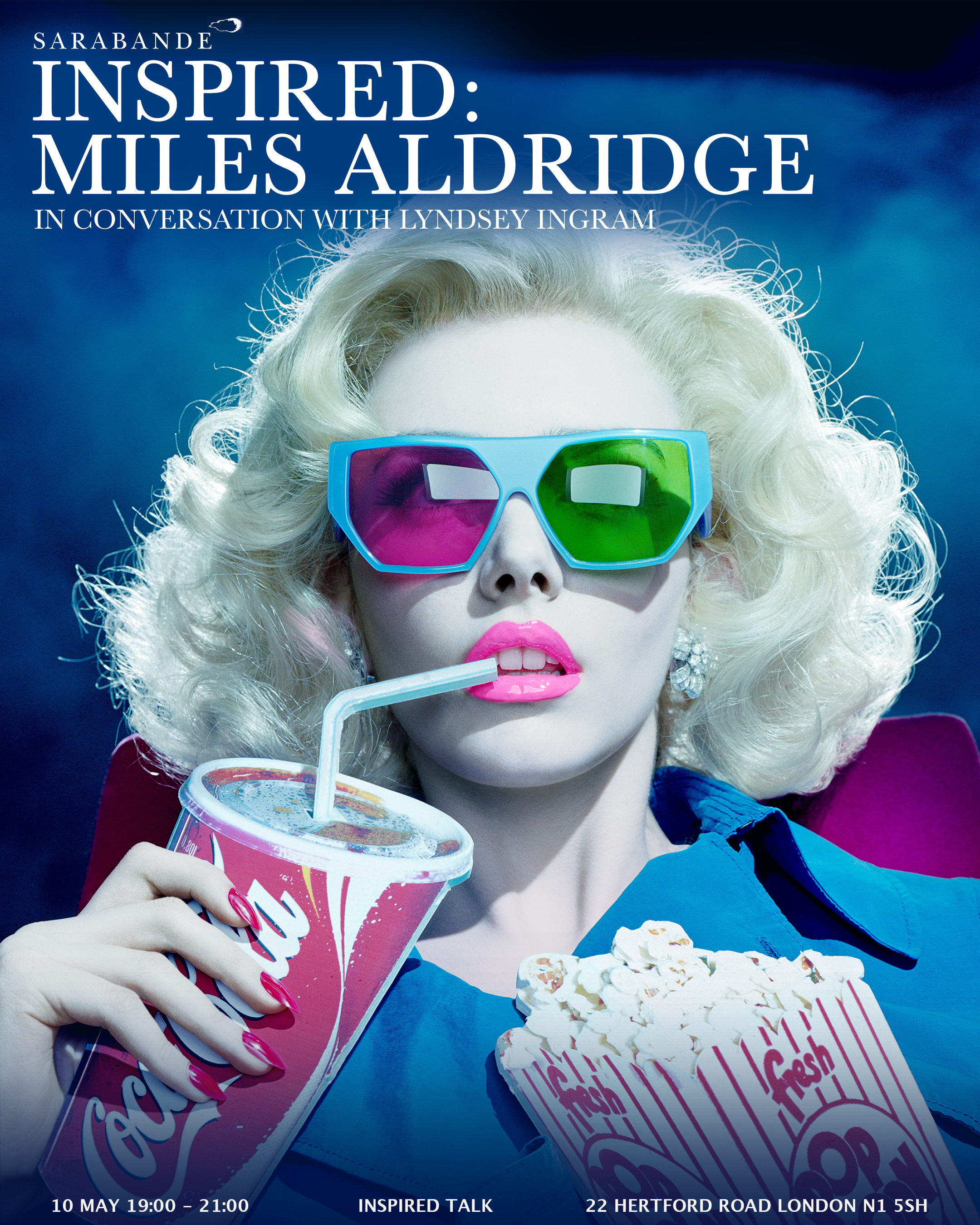 Deep dive into the imagination of Miles Aldridge and his vibrantly coloured scenes of domestic discord. Peak behind the seemingly pristine surfaces of Miles' imagery to hear him speak about his unique approach to image-making, as well as the influence of Art History and of Cinema on his work.
The talk will take place at Sarabande Foundation and will be in conversation with Lyndsey Ingram. During his prolific career that has spanned more than 25 years, Miles has collaborated with many contemporary artists including Maurizio Cattelan, Gilbert and George, and Harland Miller.
Miles' work has been exhibited at the National Portrait Gallery in London and is held in the collections of many museum including the V&A, the British Museum and The ICP in New York. His work has been exhibited at Art Basel and in the Armoury Art Fair, as well as in the pages of the New York Times, The New Yorker and on the cover of TIME magazine.
Link to purchase tickets
https://www.eventbrite.co.uk/e/inspired-in-conversation-with-miles-aldridge-and-lyndsey-ingram-tickets-619606568927
Virtual Exhibition
The Terror of Domestic Bliss
Lyndsey Ingram, London
17 March – 14 May 2023
An online retrospective of Miles Aldridge's work entitled The Terror of Domestic Bliss launches today at Lyndsey Ingram and runs through Photo London week until May 15th. The exhibition features a selection of screenprints, chromogenic prints, and unique vintage Polaroids.
The Terror of Domestic Bliss is discussed by Miles in a recent interview with the Evening Standard. To read the interview and view the virtual exhibition please see the links below.
Link to The Terror of Domestic Bliss exhibition at Lyndsey Ingram
https://lyndseyingram.com/viewing-room/34-the-terror-of-domestic-bliss-miles-aldridge-an-online-retrospective/ 
Link to the Evening Standard interview
https://www.standard.co.uk/esmagazine/miles-aldridge-fashion-photographer-interview-b1067271.html 
Press release from Lyndsey Ingram
Lyndsey Ingram is pleased to present a virtual exhibition, The Terror of Domestic Bliss, spanning over 2 decades of work by London photographer Miles Aldridge. This retrospective coincides with the upcoming release of his latest publication Please Please Return Polaroid (to be published in June 2023) and aims to show the breadth of Aldridge's practice within a range of mediums including photography and screenprinting.
Aldridge's glamorous, frequently eroticised images probe society's idealised notions of domestic bliss where uncomfortable undercurrents swirl beneath a flawless surface. The presentation includes many of the artist's most iconic, historic images alongside his latest series of screenprints, Venus Etcetera.
An acclaimed colourist, Aldridge renders elaborate mise-en-scènes in a palette of vibrant acidic hues. Alongside the vivid chromogenic and screenprints, the Polaroids included in this exhibition have elements of intrigue, a model caught between poses; or evidence of the artist's handling, a melted surface, creases, tears and annotations. The figure is often blurred, or completely absent, ambiguities which create an abstract, cinematic narrative of their own.
As described by Miles, 'This exhibition brings together images created over the last 24 years highlighting the themes that have driven my work; the false promise of luxury, the mysteries of the family and how the surface often belies what's underneath.'.
Book Signing
Les Rencontres de la Photographie 2022
Arles, France
7 July 2022
As part of Les Rencontres de la Photographie 2022, Miles Aldridge will be doing a book signing of his new book Córdoba published by Louis Vuitton as part of their Fashion Eye series.
Aldridge will be signing copies of his new book Córdoba this Thursday 7th July from 6 – 7 pm at the Louis Vuitton Pop-Up Bookstore located at Le Buste et L'Oreille, 3 Rue du Président-Wilson, 13200 Arles.
Link to Córdoba book
https://uk.louisvuitton.com/cordoba
Link to Les Rencontres de la Photographie 2022
https://www.rencontres-arles.com/fr
Louis Vuitton Fashion Eye
Aldridge first visited Córdoba in 1989 and happened to arrive during Semana Santa. Still a student, the experience left a lasting mark on him, along with vivid memories of sights, sounds and smells. In his book Córdoba, he revisits his initial impressions, inspired by the life and writings of Federico García Lorca. In contrast with his studio work, Aldridge took these images with a Leica, using only available light. Politics, religion, family and kitsch intertwine with surrealistic elements to unfurl a rich flow of perceptions in colour as well as black and white.
Inspired by the House's travel heritage, the Louis Vuitton Fashion Eye Collection evokes cities, regions or countries through the eyes of fashion photographers, from emerging talents to industry legends. Each title in the series features an extensive selection of large-format photographs, together with biographical information and an interview with the photographer or a critical essay. After Louis Vuitton City Guides and Travel Books, this third collection presents travel photography with a fashion perspective, as the chosen photographers all infuse their images of great cities, faraway places or dream destinations with their unique vision.
Art Fair
London Original Print Fair 2022
Somerset House, London
26 – 29 May 2022
As part of the London Original Print Fair 2022, Lyndsey Ingram will be presenting Miles Aldridge's new screenprint, Venus Etcetera (after Botticelli) as well as a selection of unique vintage Polaroids.
The London Original Print Fair 2022 opens this Thursday 26th May at Somerset House, London, and continues until Sunday 29th May. Miles Aldridge's work can be seen at Lyndsey Ingram's booth in section S16.
Link to London Original Print Fair
https://londonoriginalprintfair.com/
Press release from the London Original Print Fair
The longest-running print fair in the world, founded in 1985 at the Royal Academy of Arts, comes to Somerset House for its 37th edition.
The Fair is a celebration of printmaking in all its forms, spanning six centuries from the 15th-century works of Dürer and his contemporaries to that of emerging contemporary artists. Highlights include work by Rembrandt, Picasso, Matisse, Hockney, Freud, Warhol, Rego and Emin.
48 internationally renowned print dealers and publishers offer visitors an opportunity to explore and buy works by some of the world's greatest masters, alongside new work by contemporary artists that's hot off the press.
In conjunction with the physical Fair, London Original Print Fair will be running its online Platform for Prints, launched during the pandemic. Visitors can explore and buy artworks directly from London Original Print Fair exhibitors and many other international dealers and galleries online.
New Exhibition
Miles Aldridge Colour Pictures 2000 – 2022
Hangaram Design Museum, Seoul
4 May – 28 August 2022
Link to exhibition
https://www.sac.or.kr/site/eng/show/show_view?SN=46459#n
Press release from Content Creators of Culture
Miles Aldridge Colour Pictures 2000 – 2022 is opening at the Hangaram Design Museum of Seoul Arts Centre in Seocho-gu, Seoul, starting from May 4th. Hosted by the exhibition planning company CCOC this exhibition is a collaboration with Miles Aldridge's Studio 'Colour Pictures' and the British design group 'Graphic Thought Facility', also supported by the British Council and Maeil Business, and sponsored by Brickit, Noroo Paint, Durix and Ollot.
The exhibition was organised under the themes of 'colours' and 'movies' which best express the works of Miles Aldridge. Over 110 pieces of work filled with Miles Aldridge's powerful colours and surreal mise-en-scène are introduced in 8 different sections, highlighting the artist's analog workstyle with scenes inspired by world-class film directors such as Alfred Hitchcock, Stanley Kubrick, and David Lynch. Not only a place for appreciating art, but there are also photo zones for stepping into the realm of the artist's works, extending the experience of participation further for audiences to enjoy.
Charity Print Sale
Images for Humanity Ukraine Crisis Fundraiser
To raise funds for the Ukrainian Red Cross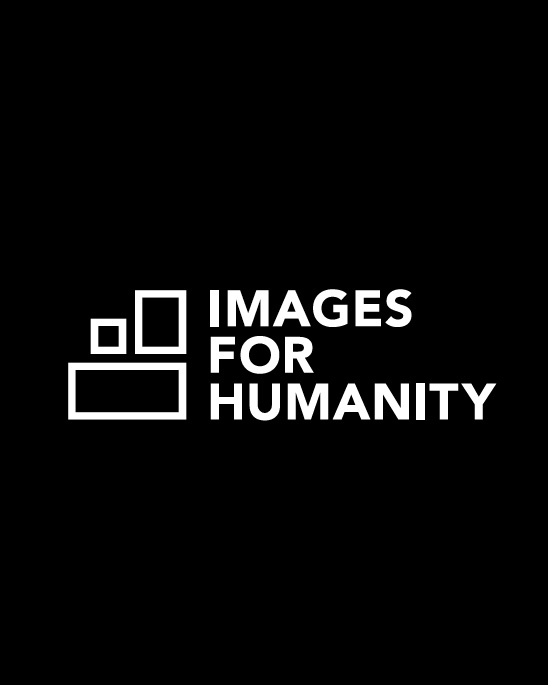 Miles Aldridge is proud to participate in the Images for Humanity Ukraine Crisis Fundraiser to raise urgent funds for the Ukrainian Red Cross. Images for Humanity has teamed up with over 100 celebrated and acclaimed photographers to create a photographic fine art print sale to aid the people of Ukraine, 100% of all profits will be donated to the @redcrossukraine.
Miles Aldridge's I Only Want You To Love Me #1 will be available as an 8 × 10 inches (20.5 × 25.5 cm) archival print from an unsigned and unnumbered edition of 10 printed on 100% cotton fine art paper for $250.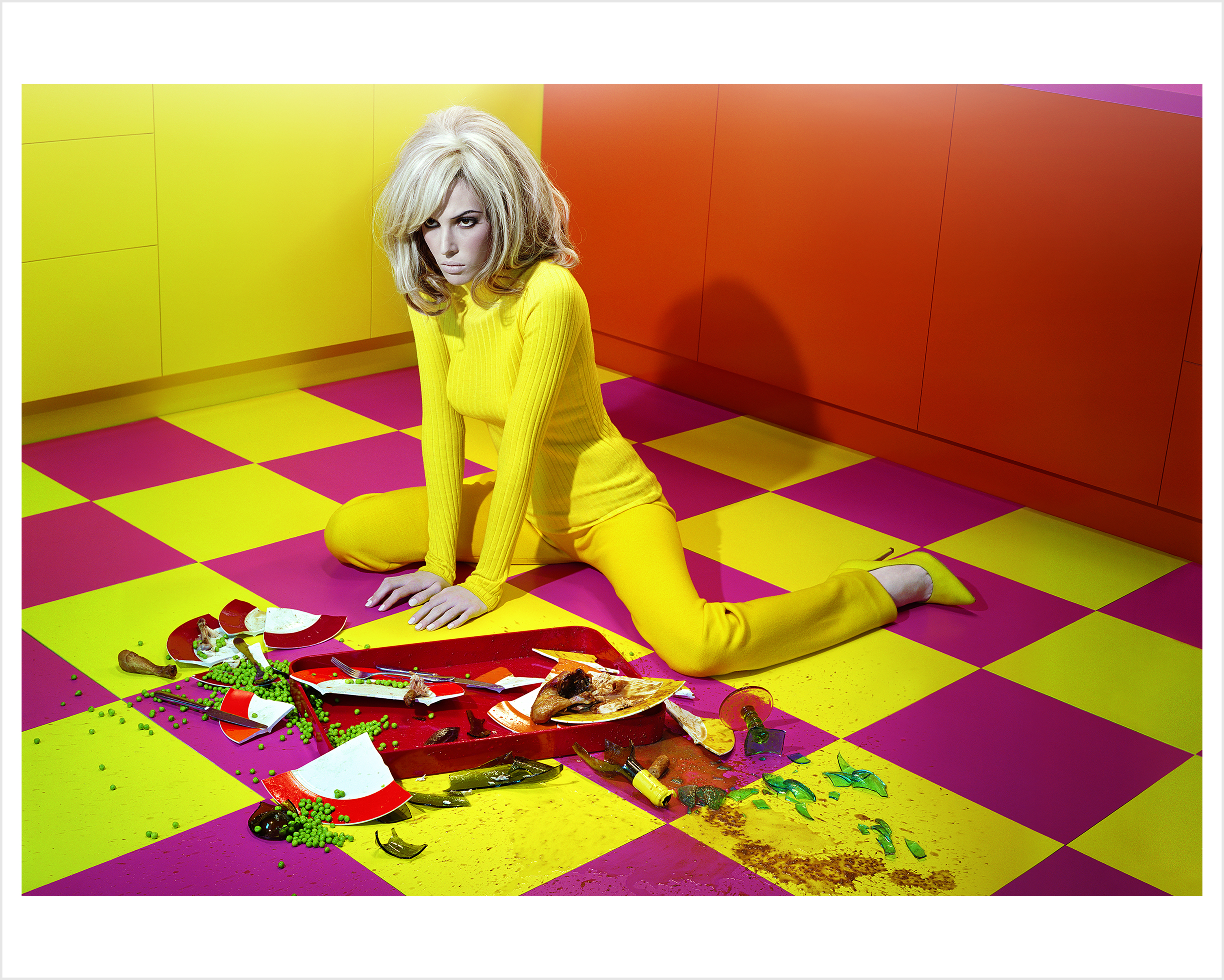 Press Release from Images for Humanity
Co-founded by renowned photographers Andy Anderson and Max Hirshfeld, we are a non-profit organization dedicated to helping people afflicted by crises around the world. Committed to transparency, diversity, and a belief in the power of creative excellence in photography, we partner with some of the world's most acclaimed photographers and photography curators to raise money for charities and NGOs through print sales, and auctions, book publishing, and fundraisers.
Given the humanitarian crisis that is unfolding in Ukraine at the moment, we are presently raising funds for the Ukrainian Red Cross. Thanks to the generosity of world-renowned photographers including Ruven Afanador, David Burnett, Kurt Markus, The Herb Ritts Foundation, and Mark Seliger, we are offering an archival, unsigned print with each $250 donation.
Charity Print Sale
Solidarity With Ukraine Charity Print Sale 
To raise funds for the British Red Cross Ukraine Crisis Appeal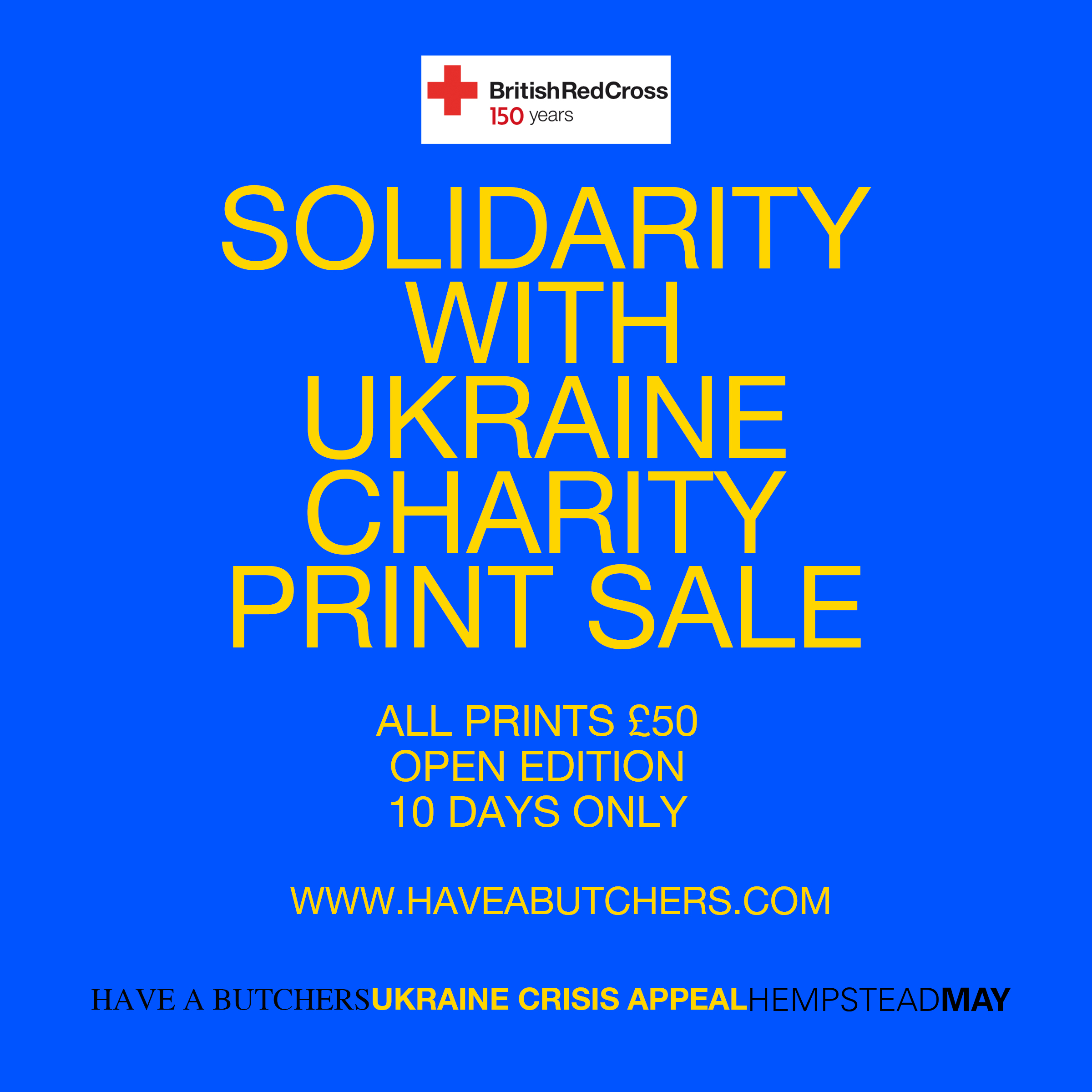 Miles Aldridge is proud to participate in the Solidarity With Ukraine Charity Print Sale in collaboration with Have a Butchers and Hempstead May to raise urgent funds for the British Red Cross Ukraine Crisis Appeal.
A 10 × 8 inches (25.5 x 20.5 cm) print of Chromo Thriller #3 will be available as a special limited edition, unsigned print for £50 in an open edition until Friday 11th March.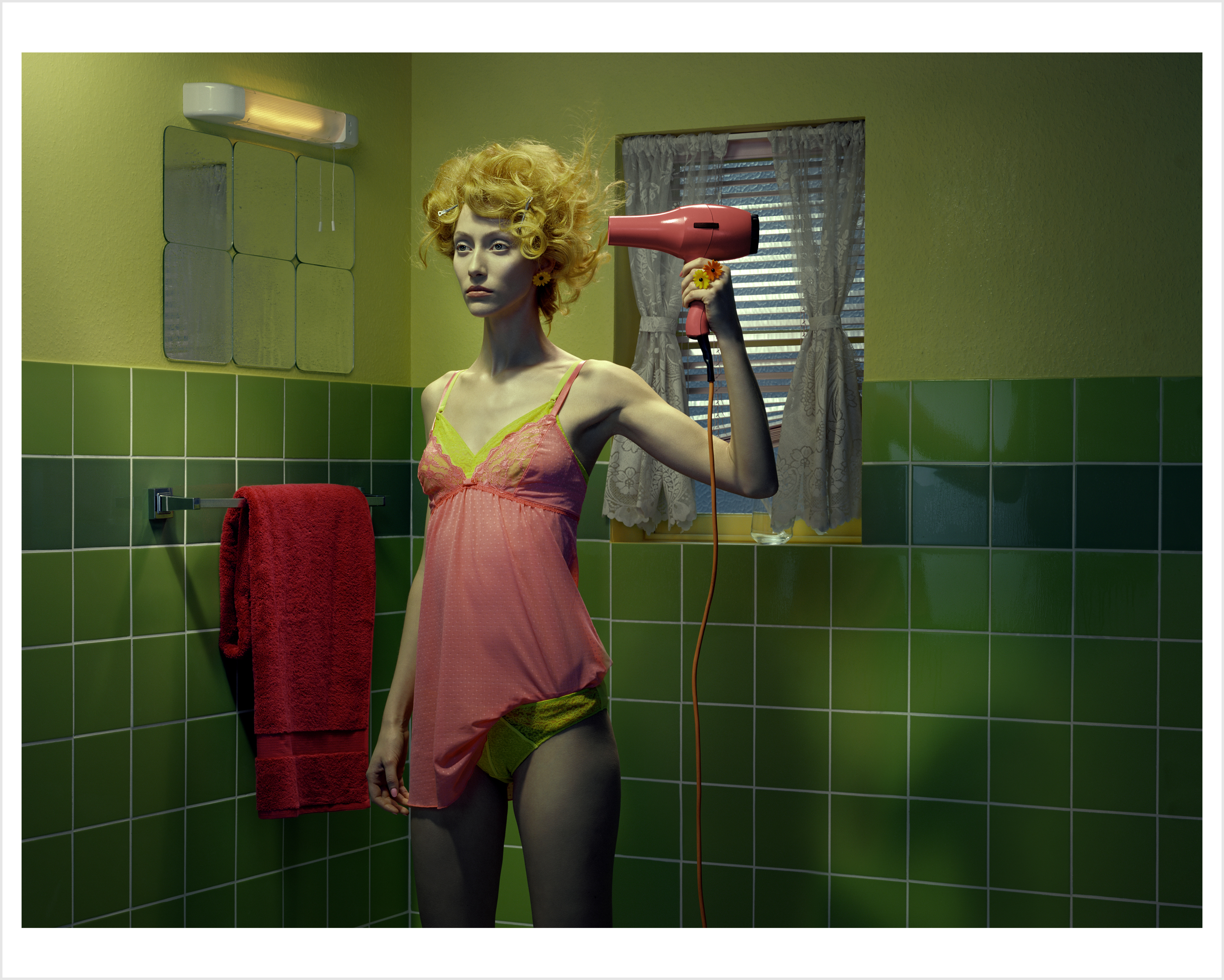 Link to print sale:
https://www.haveabutchers.com/print-sale
Press Release from Have a Butchers
Solidarity With Ukraine
Have a Butchers in association with Hempstead May & May Print are launching an urgent charity print sale, to stand in solidarity with Ukraine. The invasion and attack on Ukraine is a global emergency and with the support of our photographers we are aiming to raise urgent funds to help the people of Ukraine through this devastating crisis. The sale will go live on Wednesday 2nd March – 11th March with prints being sold in an open edition for the 10-day duration of the charity fundraiser. All prints are unsigned and printed on fine art 'Hahnamühle Lustre' Archival paper at 10×8. Prints will be made once the sale ends.
All prints will be sold at £50 to remain inclusive to all, with proceeds being donated to the British Red Cross, Ukraine Crisis Appeal.
Art Fair
artgenève
Palexpo, Geneva
3 – 6 March 2022
As part of the artgenève 2022 Art Fair the Christophe Guye Galerie will be showing a selection of screenprints and unique vintage Polaroids by Miles Aldridge, curated by Chiara Agradi.
The artgenève 2022 Art Fair opens this Thursday March 3rd at Palexpo, Geneva. Miles Aldridge's work will be on show at the Christophe Guye Galerie's booth in section A2, hall 2.
Link to exhibition
https://artgeneve.ch/evenements/10edition/?lang=en
Press release from the Christophe Guye Galerie
We are pleased to announce our participation in this year's artgenéve as part of the curated exhibition 'artgenève/photography'. Chiara Agradi, the curator of the photography exhibition at this fair, has selected British artist Miles Aldridge, among others, for this special section. On display is an exciting collection of silkscreen prints and Polaroids. The works on view focus on the artist's recent exploration of the medium of screenprinting as a new way of depicting his photographic images. Aldridge's hyper-coloured work is well known for its cinematic depictions of the strange and surreal in modern life. In this exhibition, Aldridge's vernacular of noir beauty is further emphasized through the screenprinting process, which allows a new heightened colour, as well as a print texture nostalgically reminiscent of pin-up magazines and pulp fiction book covers.
Aldridge proposes: 'Nowadays anybody can take a decent enough photograph so what does the medium mean today?' The works on view invite you to immerse in Miles Aldridge's mediums of Polaroid studies and printing techniques. Each image is meticulously crafted to create his vivid dream-like world, lying between cinema, photography, and art where his images tell a story much wider than their frame.
Feel free to contact us, if you would like to receive more information or have any questions. We look forward to welcoming you to section A2 in hall 2!
Sincerely,
Christophe Guye
New Exhibition
High – Gloss
Fahey/Klein Gallery, Los Angeles
27 January – 19 March 2022
Link to exhibition
http://www.faheykleingallery.com/exhibitions/miles-aldridge2
Press release from the Fahey/Klein Gallery
The Fahey/Klein Gallery is pleased to present "Miles Aldridge: High-Gloss", an exhibition of photographs and screenprints by renowned artist, Miles Aldridge. This exhibition features a selection of familiar and newly release images that, in pure Aldridge fashion, are glamorous – yet probe society's idealized notions of domestic bliss, where sinister undercurrents swirl beneath a flawless surface.
Miles Aldridge is a photographer who is well known for staging elaborate mise-en-scènes that have a film noir quality. The technicolor dream-like worlds he constructs are vibrant, fragmented narratives that defy expectations. Long interested in art history, his highly stylized work draws inspiration from representations of the female nude in art, as well as in pulp fiction and pin-ups. As Aldridge states:
"In my work there is always a push and pull between high and low art."
Aldridge is a contemporary artist with a unique talent for inspiring the viewers to ask themselves questions. With a keen eye for social absurdities, disguising them in colorful beauty, and then elevating them to thought-provoking art Aldridge highlights a deep truth in his hyper-realities.
Miles Aldridge has worked prolifically for more than twenty-five years, and today he remains one of the few photographers still shooting predominately on film. Born in London in 1964, the son of famed art director and illustrator, Alan Aldridge, Miles' interest in photography began at an early age when he was given a Nikon F camera by his father. After studying graphic design at Central Saint Martins, Aldridge initially worked as an illustrator and music-video director, before turning his attention to photography. In 1996 he began working with Franca Sozzani, the legendary editor-in-chief of Vogue Italia, and their boundary-pushing collaboration would continue for twenty years. In addition to the many international editions of Vogue, Aldridge's images have featured regularly in prestigious titles, including Harper's Bazaar, Numéro, W, The New York Times Magazine, and The New Yorker. His fascination with art history led Aldridge to undertake projects with several significant contemporary artists including Maurizio Cattelan, Gilbert & George, and Harland Miller. London's National Portrait Gallery houses a large collection of Aldridge's portraits, and his work is held in prestigious museums and institutions around the world, including: the V&A, and British Museum in London; the Fondation Carmignac, and the Palais Galliera in Paris; the Davis Museum at Wellesley College, Massachusetts; and the International Centre of Photography in New York.
New Exhibition
Process: Vintage Polaroids and Contact Sheets 1999 – 2018
Lyndsey Ingram Gallery, London
Link to exhibition
https://lyndseyingram.com/exhibitions/31-process-vintage-polaroids-and-contact-sheets-1999-miles-aldridge/works/
Press release from the Lyndsey Ingram Gallery
Aptly named 'Process', this exhibition of small format photographic works by Miles Aldridge illustrates the artistic journey from initial idea to final image. Through this progression, the image is captured first on Polaroid before being shot on colour negative film. Once processed in his lab, the frames are printed up as contact sheets for the artist to review. After careful edits and annotations, the final image is chosen. Each of these stages is essential to Aldridge's practice as, unlike most photographers working today, he continues to work with traditional film rather than digitally. A close look at these precursors to his fully realised photographs reveals their own unique character and give us a keen insight into the artist's working method.
The Polaroids and contact sheets included in this exhibition have come directly from the artist's archive and span over 20 years of his career. Each has been carefully chosen for the insights they offer into some of his most iconic images and because of their own particular beauty, which is often spontaneous and unexpected.
This is the first time Aldridge's contact sheets have been publically shown and we are delighted to be able to include several examples in this exhibition. They are rich with markings, notation, and edits – evidence of the artist's hand and witness to his creative decision-making. Each sheet tells a story as an image unfolds from one shot to the next – a model's eyes slowly open and close, a glass is raised and lowered, a diamond ring is fractionally moved to capture the different reflections of light. Moment to moment, we see the gentle shifts and subtle nuances that Aldridge relentlessly refines in pursuit of the perfect image. Once all the film is shot and the negatives are laid out on the contact sheets, he is able to carefully examine each frame, looking for the particular still that will become the final photograph.
Alongside the contact sheets, we have included a selection of Polaroids. These have all been newly released from the studio archive and are inc-luded in the forthcoming book – 'Please, Please Return Polaroid'. This is the second book dedicated solely to Aldridge's' Polaroids and contains both recent work and earlier projects. Described by Aldridge as 'sketches', the Polaroids offer an intimate glimpse into the early stages of an image's development, where his experiments with light and composition are laid bare.
Seen together in this exhibition, the Polaroids and contact sheets show the balance between consideration and spontaneity embedded in Aldridge's artistic process. Where an idea is discovered, repeated, refined, and examined until eventually, the final image emerges.
New Museum Exhibition
Virgin Mary. Supermarkets. Popcorn. Photographs 1999 to 2020
Fotografiska Museum, New York
Miles Aldridge's 20 year retrospective Virgin Mary. Supermarkets. Popcorn. Photographs 1999 to 2020. opens this week at Fotografiska museum NYC as part of Frieze week.
Open to Frieze VIP's Wednesday May 5
Fotografiska members Thursday May 6
General public Friday May 7
To celebrate the opening of Virgin Mary. Supermarkets. Popcorn. Photographs 1999 to 2020. The Philip Glass Ensemble will be performing a special concert at NeueHouse, Madison Square with performances at 7:30pm and 9pm.
Link to Fotografiska and to purchase tickets for Virgin Mary. Supermarkets. Popcorn. Photographs 1999 to 2020.
https://www.fotografiska.com/nyc/exhibition/virgin-mary-supermarkets-popcorn-photographs-1999-to-2020/
Link to NeueHouse
https://www.neuehouse.com/frieze-week-2021/
Press Release
Fotografiska New York is proud to present Virgin Mary. Supermarkets. Popcorn. Photographs 1999 to 2020, a photographic exhibition by British artist and photographer Miles Aldridge.
Opening on Friday, May 7th at Fotografiska New York, the exhibition will be Aldridge's first museum retrospective in the US, comprising 66 works spanning the artist's career. The show draws on Aldridge's highly composed and cinematically inspired tableaus, including his 2015 project (after Cattelan) in which the artist Maurizio Cattelan invited Aldridge to respond to his sculptures over the course of one night together in a Paris museum. Aldridge's unique style is also applied to portraiture and his subjects include Marina Abramović, Gilbert and George, Sophie Turner, Viola Davis, Michael Fassbender, Donatella Versace and David Lynch.
An exhilarating ride through Aldridge's universe, the show reflects on three strands of his colorful cosmos. Virgin Mary references the religious paintings by artists such as Caravaggio, who like Aldridge represent experiences in an artificial, almost cinematic manner through their use of dramatic lighting, costuming and staging. Supermarkets are a metaphor the consumer society; the hope of self-improvement through retail therapy. Lastly, Popcorn is a nod to the influence of cinema in Aldridge's work and the many auteur directors such as Hitchcock, Lynch and Fellini, who serve as a source of inspiration for his style and approach. With so many diverse influences coming from the history of Cinema, when everything was still shot on analogue film, Aldridge likewise prefers to shoot on film rather than digital. Every print in the exhibition was captured on Kodak Colour Negative.
A recurring theme throughout Aldridge's oeuvre is the false promise of luxury. Psychedelic interiors are furnished with the trappings of mid-century suburban comfort: gleaming kitchen appliances, candy colored telephones, and well-groomed pets denote success. The images of domesticity are often undercut with a bittersweet edge; a personal reflection of Aldridge's childhood memories of his mother after a shattering divorce.
Aldridge's work conflates historic and modern motifs and makes subtle reference to the art historical canon. Only rarely does he allow the real world to encroach upon the imagined realm. Through his lens, even reality appears artificial.
Virgin Mary. Supermarkets. Popcorn. Photographs 1999 to 2020 is curated by Nadine Barth, barthouse Berlin, in collaboration with Johan Vikner, Director of Global Exhibitions at Fotografiska International. This installment marks the second iteration of the show which debuted at Fotografiska Stockholm in September 2020 and ran till March 2021. The exhibition has been made in close collaboration with the artist and his galleries; Fahey Klein Gallery, Los Angeles, Lyndsey Ingram Gallery, London, Christophe Guye Gallerie, Zurich, Reflex Gallery, Amsterdam, and Casterline Goodman Gallery, Aspen.
New Series of Screenprints Released
Hello and I Will Love You Tomorrow
Each in an edition of 15 plus 3 artist's proofs
Hello and I Will Love You Tomorrow are the first screenprints from a new series entitled Subtitles. Printed on 410 gsm Somerset paper in three passes – a matt halftone dot, a high gloss black border and the subtitles in a satin acid yellow. Both screenprints are available either unframed or in a polished aluminium frame designed by the artist.
'This series of screenprints extends and enhances the influence of cinema on the photographic practice of Miles Aldridge, further exploring the mood and allure of theatrically constructed images. Artifice is everywhere in these screenprints, proposing figure, setting and event as both immediate and static – reprising the aesthetic of the tableau vivant as it might be conceived by Luis Buñuel or Eric Rohmer. Aldridge has long been fascinated by the transposition of suspense – as it might occur in film noir – to the mise-en-scene of sexually loaded pictorial narratives. These narratives, here broken down into the film-still idiom of individual sub-titled scenes, become at once  visually amplified and ambiguous. Pictorially, each screenprint depicts an open-ended dramatic image that calls on both the coldness and glamour of Pop art. While proposing a scene with dialogue – the urbane high passion of European cinema is implied – they resemble frozen fragments of mass media. Insoluble mysteries, as present yet remote as a billboard, acting in silence.'
– Michael Bracewell
Hello
2020
Screenprint in colours
Printed on 410 gsm Somerset paper
Signed and numbered in pencil verso
28 ¾ × 37 ½ inches (73.5 × 95 cm)
Edition of 15 plus 3 artist's proofs
I Will Love You Tomorrow
2020
Screenprint in colours
Printed on 410 gsm Somerset paper
Signed and numbered in pencil verso
28 ¾ × 37 ½ inches (73.5 × 95 cm)
Edition of 15 plus 3 artist's proofs
View Hello and I Will Love You Tomorrow in Works
View a list of the galleries in Contact
New Book
Steidl to publish Please Please return Polaroid
A sequel to Miles Aldridge's 2016 book Please return Polaroid
Please Please return Polaroid is Miles Aldridge's ongoing love letter to Polaroid, a process once integral to the craft of many photographers but now more or less extinct, apart from the rare and out-of-date material traded on eBay for exorbitant prices. The sequel to Aldridge's Please Return Polaroid of 2016, this book presents new and vintage Polaroids from his more than 20-year archive in a seemingly random sequence shaped by a dreamlike logic and surprising juxtapositions. Please Please Return Polaroid explores Aldridge's to analogue processes where cut-and-paste is still a manual process, made with scissors, gaffer tape, intuition and not a little patience. Aldridge continues to use Polaroids as part of his work-in-progress "sketches," often scratching, tearing and taping them together, even drawing over them: each mark part of the creative act. Known for creating immaculate photos of a less than perfect world, Aldridge revels in these unpolished images, transforming some into extreme enlargements filling double pages with their re-worked and damaged surfaces. Long live Polaroid!
Please Please return Polaroid
208 pages, 117 images
11 ¾ x 11 ¾ inches (29.5 x 29.5 cm)
Clothbound hardcover
ISBN 978-3-95829-748-7
€ 45.00